Ice-skating might not seem like the obvious birthday treat for an 80-year-old gran, but Enid Fletcher proves otherwise. This past December, spectators and fellow skaters during a cold yet star lit winter night, were amazed to see octogenarian Enid Fletcher step onto the ice for the very first time at Gloucester Quays open-air ice rink.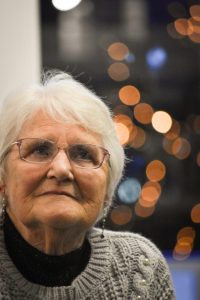 Enid had previously told her family that she'd love to try ice skating for the first time to celebrate her birthday, and with the help of the rink and its staff, the family were able to make Enid's wish come true.
Commenting on Enid's birthday experience, her granddaughter Claire says: "Now Nan's 80, we're trying to get her out a bit more. It's so nice to see her smile. She's a phenomenal woman and a real inspiration. She keeps finding things she wants to do and we say to her 'are you sure Nan?!' and she's like, 'let's go do it'. It's really inspiring, we love her to pieces."
Enid was joined on the ice by Claire, plus Enid's daughter Helen, and grandson Taro, who all enjoyed their evening at the rink. A spokesperson for Christmas Ice Rinks says: "We are always looking to create truly special Christmas memories at the Ice Rink. We're thrilled we could do this for Enid and her Family".